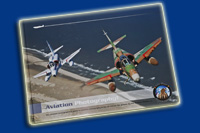 Aviation Photograhpy!
The ultimate aviation
photobook!
Air-to-Air Academy

Air-to-Air photography is for many photographers the ultimate way to photograph aircraft in their natural environment, the sky. Making the big step to Air-to-Air photography can be very difficult. Opportunities to fly for pictures are very sparse, and mostly done by only a handful of experience photographers who keep the opportunities for themselves.

The Air-to-Air Academy is a non-profit organisation with the goal of sharing our experience in the field of airborne photography with other photographers from around the world. Not only on the ground, but also in the air we'll share our photoflight opportunities with motivated photographers.

The concept was invented by the Aviation PhotoCrew in 2009, when many of their friends kept on sending emails on how they could join them on their many photoflight missions. Our prefered photoship, the Shorts Skyvan, can take up to 11 photographers on board, so it is an ideal aircraft to take guest photographers in the air for their first Air-to-Air photoshoot.

The Academy is set up as a very active course, a holiday full of aviation, with a lot of action both on the ground and in the air. It is a good combination of useful lectures which will give you many handy tips & tricks, aviation photography on the ground and ofcourse the photoflights themselves. Each participant will take to the skies in the famous Skyvan photoship which will give you the opportunities to use your photography skills.

Air-to-Air Academy 2015

In 2015 the Aviation PhotoCrew is organizing the 5th anniversary edition of the Air to Air Academy.

When?

We will try again to build in the biggest flexibility possible for a large team of photographers, in case of bad weather and mechanical, delays etc. So the official date will be from the 15th to the 21st of September. That includes all arrival & rehearsal days of the Sanicole Airshow, the departure day as well.

Where?

Never change a winning team, so we are very happy to join forces again with the famous International Sanicole Airshow. Most of the photo flying will originate from Sanicole airfield, but on Airshow day we move to nearby Zwartberg airfield.


What to expect on the ground?

First of all, very good food!! We should celebrate in style so that means good catering as well. Did you know that when the weather is really so bad we cannot fly, the meals & drinks are the most important part of the day? Ask any pilot and he will say 'yea sure' Of course the Air to Air Academy is not only a private Airshow in the air, it is also about the very interesting experiences, theory, tips & tricks on how to make those pretty pictures. Once again Daniel Rychcik will put together some of the finest master classes for aviation photography. For the new participants among you, it's an absolute highlight! Of course Daniel will invite some well-known guest speakers on various topics in aviation photography, we do welcome good ideas and suggestions with pleasure.

Sanicole airfield is world-famous, but this small airstrip has the disadvantage that only the smaller and vintage aircraft are allowed to land there, especially during the Airshow week. Nevertheless we plan to have evening & night shoots again, with engines starting up and maybe even smoke!


What to expect in the air?

Flying and taking pictures, what else! If the weather is with us, we could fly as early as the 15th of September and end on the Airshow departure day 21st of September. Our 'classic' photoship will be of course the quite famous Skyvan, and we aim to have different types of other photoships available: sideseat, closed canopy, open canopy, slow, faster, aerobatic etc

What NOT to expect?

Please know that the Air to Air Academy is our primary photoflying aviation party, where it is our ambition to give a great number of photographers an opportunity to catch various aircraft and experiences air to air in a short time. So the program in the air is not like what you see on our website when you look at projects we do around big Airshow and military exercises ( and those are quite costly ) meaning do NOT expect to see right away a dozen jetfighters. The Air to Air Academy is all about a great experience and practice on a different range of aircraft. BUT having said that, you will be happy to continue reading...


What to expect as photoships and targets?

As we celebrate our 5th anniversary we got to come up with at least some aircraft that will make you eyes shine! If you browse through the reports from previous years (see below), starting by 2010 to 2013, you will notice that we have achieved an amazing evolution. Each year we emphasize to all of you not to have your expectations set too high, but I know each year all the photographers do... and each year we managed to fulfill all that high-profile wishes.
For the 'classic' Academy photoflight in the Skyvan photoship, we start with a collection of small and vintage aircraft. That will stay the same, but ( based on the great amount of feedback we after each edition ) with quite some different aircraft then before. Photographers that have been to several Academies have stated it would be good to see different aircraft, so we will try to do our best to give you that. Working together with the Sanicole team gives us the chance to use our available budget to attract some of the absolute best Airshow acts in Europe, and we have something to celebrate so we want some 'interesting' aircraft, not only for the Airshow but also for the photoflying part. Not much is confirmed at this early stage, but in short:

Will there be:
- vintage aircraft: yes, sure
- aerobatic aircraft: yes, sure
- helicopters: yes, sure
- aerobatic teams: maybe
- military jets: I specify, YES sure!
- warbirds: probably, but not too many ( because it's unfortunately so expensive )
- classic jets: yes, maybe even with an afterburner!

Flying in the Skyvan photoship is a great experience, but eager photographers ( and that are many among you ) want a lot more. So we will have again the opportunity to fly in an open backseat, in a closed sideseat, in a formation and even aerobatic. As we plan the combination to maximize chances for all photographers we will have formation flight with position changes on each day, enough to give all photographers a chance to catch one of those rides.
Not enough? Based on your interest/feedback/suggestions in advance we will do our best to have enough opportunities available to make you exhausted at the end of this Academy edition.

Former Academy photographers can switch again their classic Academy flight for one of the military jets / warbird flights. There might be dedicated photoflights with just one or a few aircraft ( but the real hot stuff ) and on Sunday we will have the 'Airshow flights' again with on each session a number of Airshow participants ( unfortunately limited ). Hopefully we will have a few nice sunsets during the Academy week, that means we fly at sunset!!
And I hope you'll agree we should have at least one 'anniversary formation' with photographers onboard; at this moment we have already a 10-ship!




Active membership fee 2015

The Air to Air Academy in a registered non-profit organization. In order to participate in the 2015 edition you have to be an 'active member'.
The active membership fee for 2015 will be 990€ , and does include:
- all catering on all days
- all the theory lectures
- "Aviation Photography!" book and kingsize 2016 Air-to-Air Calendar
- the evening shoots, anything happening on the ground
- a real collectable diploma ( on popular request )
- ticket for the Sanicole Sunset Airshow
- ticket for the Sanicole Sunday Airshow
- the 'classic' Academy flight onboard the Skyvan photoship ( for former Academy photographers can be switched )
- a photoflight in a formation, minimum 4-ship

All other photoflights are additional opportunities as in previous editions, and we aim to have many, but it's too early for details now.


Accommodation and transport

As in previous years Center Parcs will offer photographers again the special 'Sanicole' deal, but there are many bed & breakfasts and affordable hotels in the area. This part of Belgium is well-known for its hospitality. The easiest way to reach Sanicole airfield is by car, but once we know the list of confirmed photographers we try to link each of you so the guys with a car can eventually help out participants flying into Belgium.


Registration

If this anniversary edition of the Air to Air Academy sounds tempting to you, it is possible to register. Please note that it is NOT a confirmation, but it will give us a good idea how big this celebration will be next year! As always we do have limits on the size of the event ( just to make sure we can give each of you some real good opportunities ), once we have reached that you can only register to be on the waiting list.

To register, just send an email to:

> Air-to-Air Academy 2010 Report

---

The very first edition of the Air-to-Air Academy was for all of us a very steep learning curve, both for the organizers and the photographers. It took place in May at the Airfield of Malle, and we were very happy with all the nice aircraft who participated in this first edition. It was great to meet so many new friends, of which many returned the following years.

> Air-to-Air Academy 2011 Report

---

Malle Airfield was again the homebase for the second edition of the Air-to-Air Academy 2011. This time it was organized in August which was a very good choice as we had the most beautiful weather we could have ever hoped for. We welcomed over 40 photographers from all over the world, and the line-up of participating aircraft was just amazing.

> Air-to-Air Academy 2012 Report

---

The 2012 edition of the Photoflying Days was destined to be an even bigger success after the two previous events. This year's Academy was again fully booked with no less than 65 photographers coming from all over the world especially for this event. The line-up of historical aircraft was really huge, one of the largest gatherings of Oldtimer Aircraft ever in Belgium. Not only fighter birds like the Spitfire and the Hurricane attended, but we also had two very nice DC-3 Dakota's, next to a whole array of other unique airplanes.

> Air-to-Air Academy 2013 Report

---

Time flies when you're having fun - it was already the fourth edition of the Air-to-Air Academy, taking place from September 11-16, 2013. For the occasion, a new cooperation was set up, with the famous Sanicole Airshow at the Leopoldsburg Airfield. As the Airshow attract the best of the European Airshow scene, a nice variety of aircraft attended, which made for some unique photo opportunities for the many photographers visiting the Academy. Over 50 photographers from around the world gathered at the small airfield of Sanicole and it was great to meet so many familiar faces and welcoming some new friends.